List of titles in the Spanish language
_________________________
La Botela WOBO, Article on the Heineken WOBO bottle In: Sin recursos Arquitectos numero 1/2009, informacion del Consejo Superior de los Colegios de Arquitectos de Espana.
Supports: Housing and the City, Soportes:vivienda y ciudad, Experiencias 1, with Andrés Mignucci, foreword Josep Maria Montaner – Zaida Muxi, Barcelona 2009, Master laboratorio de la vivienda del siglo XXI, Report on the workshop under that name done at the Universitat Polytécnicad de Catalunya, Barcelona.
"Metodo Para un Deseno Aficaz de la Vivienda". Eure.Santiago de Chile: 1982. Translation of: "Methods for Efficient Housing Design". Invited paper, presented at the International Colloquium on Low-Cost Housing Financing, INFONAVIT, Mexico City, 1982.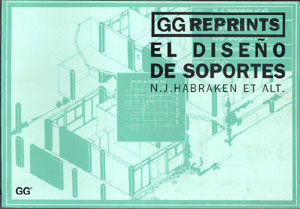 "El Diseno de Soportes". Ed. Gustavo Gili, Barcelona: Second edition 2000, first edition 1979, Spanish translation of Variations, the Systematic Design of Supports. With J.T.Boekholt, A.P.Thyssen, P.J.M. Dinjens: MIT Laboratory for Architecture and Planning; distributed by MIT Press, Cambridge, USA and London 1976. Which, in turn, was the English translation by W. Wiewel and Sue Gibbons from the original Dutch edition: Denken in Varianten,. Alphen a/d Rijn, Samson, 1974.
"Tres Notas Sobre Vivienda", in AUCA, no 29/30, Santiago de Chile, 1975; and "Tres Principios Fundamentales para la Vivienda", in Summarios, No. 8, 1972, Buenos Aires, Argentina. Spanish translation of: Three R's for Housing. Amsterdam, Scheltema & Holkema, 1970; originally published in Forum, vol. XX, no 1, 1966.
"Soportes: una alternativa al alojamiento de masas.Madrid", Alberto Corazon. 1976 Spanish translation of: Supports: an Alternative to Mass Housing. London: The Architectural Press, and New York: Praeger, 1972. First English-language edition. Originally published in Dutch under the title: De Dragers en de Mensen. Amsterdam: Scheltema en Holkema, 1962.
****
to home page....; to bibliography overview....to comprehensive list